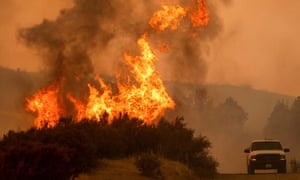 Thousands of firefighters battle blaze as it destroys 87 homes and 82 other structures, and forces evacuations
Plumes of smoke towered over flame-engulfed mountains in northern California on Monday evening as thousands of firefighters grappled with the largest wildfire in state history.
At a community hall in a small farming community 121 miles north-east of San Francisco, Renato Lira, an American Red Cross disaster services worker, looked through photos on his phone of the fire he had just driven through to set up an evacuation center. As he flicked, his screen turned red.
Source: https://www.theguardian.com/environment/2018/aug/06/california-wildfire-mendocino-complex