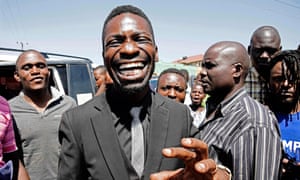 Robert Kyagulanyi Ssentamu, who sings as Bobi Wine, charged during closed court session over stoning of presidential convoy
Lawyers for a pop singer turned politician and prominent critic of Uganda's veteran ruler Yoweri Museveni claim he has been badly beaten up, following his arrest after the presidential convoy was pelted with stones.
Robert Kyagulanyi Ssentamu, known to fans as Bobi Wine, was charged in a military court on Thursday with unlawful possession of firearms and ammunition. He had been arrested in the north-western town of Arua on Tuesday, after clashes broke out on Monday during campaigning for a byelection.