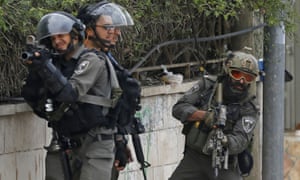 Proposals to ban unflattering coverage of the military threaten press freedom
On the day the US moved its embassy to Jerusalem, Israeli soldiers opened fire on unarmed Palestinian protesters who gathered at the border fence on the Gaza Strip.
Sorry. That requires a rewrite to reflect "the truth" as promulgated by the Israeli government.
Source: https://www.theguardian.com/media/media-blog/2018/jun/03/israel-must-halt-law-that-could-criminalise-media