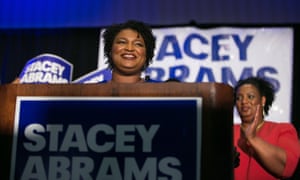 After winning Georgia's Democratic primary, Abrams tells Lucia Graves about her uphill battle to win in a state with a history of segregationist governors
For Stacey Abrams to become the first black female governor – and in Georgia, no less – would take a miracle. Then again, according to the politics of convention, it already took one for her to get this far.
"We have to be hopeful enough and courageous enough to believe in the unexpected," said LaTosha Brown, co-founder of Black Voters Matter, at Abrams' primary victory party on Tuesday night at a hotel ballroom in downtown Atlanta. Abrams easily defeated her fellow former Georgia state legislator, Stacey Evans.
Source: https://www.theguardian.com/us-news/2018/may/25/stacey-abrams-georgia-first-black-female-governor-election