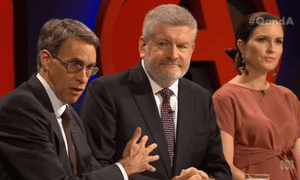 Human Rights Watch boss urges Australia to 'do the hard thing', but Grahame Morris says he's sick of people from overseas 'giving us curry'
It is much easier to drop bombs on Syria than to provide safe haven to people fleeing the conflict, the executive director of Human Rights Watch, Kenneth Roth, told ABC's Q&A program on Monday night.
Roth said Australia should increase its refugee intake in response to the humanitarian crisis in Syria. On Saturday, the US, France and the UK launched military strikes on Syria after reports of chemical weapons attacks on civilians.