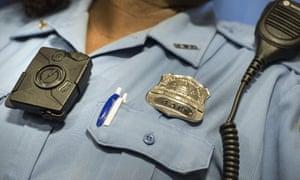 Former officer Christopher Hickman is seen subduing the victim, then punching and shocking him with a stun gun
Hickman was arrested in March on a felony charge of assault by strangulation
A white North Carolina officer is shown putting a black pedestrian in a chokehold in video released on Monday that offers more footage of a police beating that has sparked outrage over use of force.
City officials in Asheville, North Carolina, released nine body camera videos of the August 2017 encounter – most of it made public for the first time – from multiple officers. Earlier this year, a shorter clip obtained by a newspaper sparked anger in the community and helped lead to assault charges against former officer Christopher Hickman.