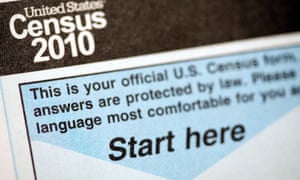 Commerce department says 2020 form will include status question
California attorney general says: 'It's not just a bad idea – it is illegal'
The Department of Commerce has said the 2020 US census will include a question about citizenship status. The move prompted criticism from Democrats and immigration groups and a promise by the California attorney general to oppose it in the courts.
Related: Michael Cohen: Who is Trump's pugnacious and loyal lawyer?
Source: https://www.theguardian.com/us-news/2018/mar/27/us-census-citizenship-question-2020